Community and 30 Rock: Actual Must See TV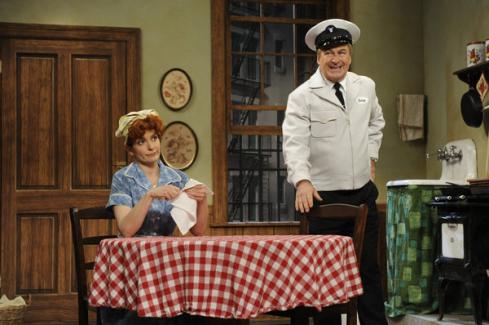 On Thursday April 26th, NBC created something that they have not done in this millennium.  They actually had must see TV.  Since I am a man of today, I watched it on Hulu.  Community and 30 Rock were spectacular this week.  Both did exactly what a sitcom in 2012 should be doing.  They made new, fresh, hilarious comedy out of something old.  First up 30 Rock.  They did a live episode about doing a live episode.  I love when TV feeds on itself.  Next week we are doing a Podcast about laugh tracks in sitcoms.  This live episode showed exactly how you can solve that issue.  Have a live studio audience and be funny in front of them.  30 Rock has always done a great job of the quick cut aways to something in the character's past where they can get in a couple of really quick jokes.  The live episode was no different.  But the cut aways were more fleshed out and funny.  It really showed you how much Tina Fey learned from SNL.  Alec Baldwin was hilarious as  news anchor, a Laugh-In Nixon, Jackie Gleason and Dean Martin.  He did all that in 30 minutes.  The Emmy awaits you Alec.  Jon Hamm was absolutely hilarious playing an Amos and Andy character.  Racism jokes are really hard to get away with any more.  But I have to say Jon doing an imitation of Tracy Jordan to Tracy Jordan was actually laugh out loud funny.  I foresee John Hamm in a comedy once Mad Men ends and we will all be for the better.  Bravo Tina on keeping television fresh and daring to try something new.
Over on Community, the same evening, they took on a different NBC staple: Law & Order.  Doing a 30 minute spoof on a topic can really be tricky.  Another show might have over used the "bump-bump" sound that L & O using and that would be it.  Not on Community.  I used to love L & O back when it was Chris Noth, Jerry Orbach and Steven Hill.  I have to say, they got the taste of the show down perfectly.  That opening scene of the janitors finding the killed yam was exactly how L & O opened.  The thing that Community knows is they don't have to put a joke in every  four seconds.  Playing it for real makes it funny.   I wish someone would tell CBS comedies that.   I actually noticed that sometimes minutes went buy with no jokes.  The joke was the bit they were playing.  Going to chambers, asking for a side bar, or having a shocking ending.   I am not saying the show wasn't funny, it was, it just wasn't filled with bad jokes.  As a Wire fan, I loved the ode to Omar about having a code.   It was fun to just watch the actors play with the world that Dick Wolf created on L & O 22 years ago.   Donald Glover (who also was on 30 rock that same night) was so funny as a detective.  I swear to you we are watching a future comedy star come into his own.  Jim Rash is also so important to Community despite his small screen time.  He is so best used as a "drop and run" comedy man on this show.   The end tag on this episode of him singing was priceless.  Speaking of making the most of his screen time, Ken Jeong (Chang) as the bailiff was hysterical.  If you missed his face during the trial, you better watch the episode again.  The attention to detail this show does is amazing.  If you have never seen either of these shows, head to Hulu and enjoy.
So, does this mean I am complimenting NBC?  I suppose for just this once I am.  But it was an hour of television where they basically promoted their other creations of L & O and SNL so they probably didn't care about the creativity and just thought of it as cross marketing.  Either way, it was a joy to watch and made me really have faith that there is hope for the future of the sitcom, especially when they mine from the past.
Check out my Other Community Blogs
A review of their Return to Primetime Read my list of the best episodes of Community
Listen to our Podcast about Community
Click here to buy Community on dvd: Purchase
Follow us on Facebook or twitter @redroompodcast Subscribe to our Weekly Podcast on Television at iTunes