The Newsroom: Episode 7 Review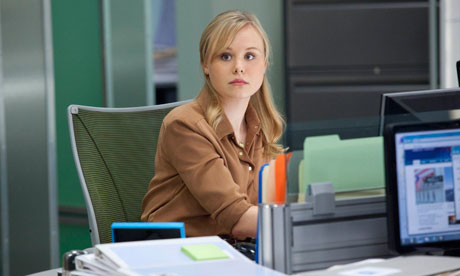 Before I get to tonight's episode, I want to talk about this week's Entertainment Weekly.  They had a round up of summer programming where they called The Newsroom the Loser of the summer.  It said the ratings were not that great but it was picked up for a second season.  It also said that even the show's most ardent fans find the show boring.  I am certain that HBO knew when it read the pilot of The Newsroom, a pilot where the main character has a five minute speech about how America is no longer the greatest country in the world, that The Newsroom wasn't going to do True Blood numbers.  Just about every character on The Newsroom has said that the show within a show, News Night, is going to take a ratings hit by covering real issues and not "media" issues.  This week our entire country has either been obsessed with athletes competing for gold or Christians devouring fried processed chicken like it was the Eucharist.  I couldn't help but think that Will McAvoy and his cerebral producing team wouldn't want to cover either story.  They would be looking into the banking scandal where 16 rich men conspired to make working American's like me watch their mortgages go upside down.  (Libor)  I don't want Aaron Sorkin to "fix" the show.  It is doing what it set out to do.  The article also proclaimed Breaking Bad a winner because it got 2.4 million viewers.  That is the kind of rating that would get a pilot cancelled off a network channel before the end credits rolled.  Maybe we are at a place in television where there can be a show about vampires,  a show about drug dealers, and a show about real issues.  And we maybe could all be winners.  I hope that Aaron does not change the show.  Not every show needs to be Friends.  I can't imagine the budget on the show could be that high to not justify at least one show that documents for the future what caused our decline while everyone else took their social behavior from the people who dispense our sliced potatoes.
This episode follows the news team as they wait for the president to announce that Bin Ladden has been killed.  This is one of the first episodes that did not involve partisan politics at all.  I think that was a great idea.  The show can turn people off by the taking a strong side.  Problem is I think you need that friction to create good drama.  The removal of an "issue episode" topic had to be replaced with an anchor on marijuana, a story about hidden love and people fighting with a flight attendant.   I am going to have to just accept that this show is going to be slap stick and issue based.  So I am not going to mention it again.  Sometimes you just have to accept a show for what it is, whether you think it is the right choice or not.
I  have to admit Aaron Sorkin tricked me with the set up of policemen and airline pilots.  These are the people that needed to hear this news the most.  Aaron constructed a story where both Will and Don got to tell a representative from each profession that Bin Ladden was dead.  The only profession missing was the Fire Department but they did have one of the crew put on a baseball cap with the Fire Logo from NYC.   A lesser writer would have tried to have all 3 come together at once while Will told them the news.  This was hidden a little better and I liked it.  It is easy to forget how much pilots, policemen, firemen and the armed forces have truly sacrificed for our country the last 10 years.  It was fun to relive this evening where for a brief time we could feel good about something that the media told us.  I also like how most of the characters spent the 90 minutes of pre-warning with only one goal: stealing the thunder from the president.  I truly do not understand why the president can't be the one to tell us something, but right now the news media always think they are the most important part of the story, even our heroes of this show.
The Red Room Podcast has a round table discussion about the entire First Season of The Newsroom.  You can listen by clicking the link or heading out to iTunes. Read my Reviews of all The Newsroom Episodes starting with the Pilot
Read my review of Episode 2   Read my Review of Episode 3
Read my Review of Episode 4  Read my Review of Episode 5
Read my Review of Episode 6  Read my Review of Episode 7
Read my Review of Episode 8
Follow us on Facebook or twitter @redroompodcast Subscribe to our Weekly Podcast on Television at iTunes