USC Twin Peaks Retrospective:1-27-13
USC's film school has kicked off a complete series retrospective of the groundbreaking (and one of my favorite) shows, "Twin Peaks." I intend to be there for every one – and I want to keep you loyal fans updated with all that happens! Hence, this lovely blog you are reading. "She's dead. Wrapped in Plastic." Those iconic words spoken by the lovable Pete Martell (Jack Nance) aroused the curiosity of the audience during the screening of the "Twin Peaks" pilot at the USC School of Cinematic Arts on Sunday evening, Jan. 27.
Hardcore fans already know the answer to the question, "Who killed Laura Palmer?" But when the moderator Alessandro Ago polled the audience (comprised mostly of USC students), the majority had never seen an episode of "Twin Peaks." Gasp!  They were in for a treat.
Buy or Rent A Voyage To Twin Peaks at Amazon. It is the documentary Scott directed about the 25th Twin Peaks Festival. See the actors, the set locations and interviews with the fans. First up, they screened the 90-minute pilot ("Northwest Passage") on the big screen. Afterward, we had an intermission, and USC served up a smorgasbord of cherry pie, donuts and David Lynch Signature Coffee outside Norris Theatre. That was most appropriate, because Twin Peaks always puts one in the mood for cherry pie and coffee. After the crowd engorged themselves on damn fine dessert and coffee, everyone entered the theatre for episodes 1.2 ("Traces to Nowhere") and 1.3 ("Zen or the Skill to Catch a Killer"). By episode 1.3, the crowd seemed to be thoroughly enthralled, especially with the introduction of FBI character Albert Rosenfield's scathing "What the hell kind of a two-bit operation are they running out of this tree house, Cooper?" Finally, during the Red Room sequence, the theatre was completely silent. Everyone was paying attention, and "Twin Peaks" was making some new fans.
Following episode 1.3, the panel approached the stage to thunderous applause.
The panel for the opening retrospective series was comprised of some serious contributors:
1)      Mark Frost – Co-creator, Writer, Director, Executive Producer
2)      Duwayne Dunham – Director (episodes 1.2, 2.11, 2.18); Editor (pilot & 2.1)
3)      Ron Garcia, ASC – Director of Photography (Pilot & Twin Peaks: Fire Walk with Me)
4)      Grace Zabriskie – the legendary actress who portrayed Laura's mother, Sarah Palmer.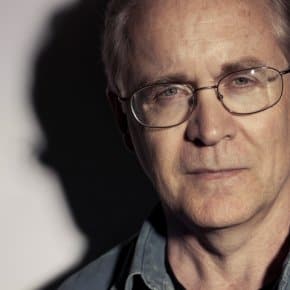 Mark Frost first described the creation and process of making the show. He said that he and David Lynch wrote the first four hours of "Twin Peaks" together. When asked what characters he felt easiest to write, he said he felt most comfortable writing the characters of Major Briggs and Dale Cooper since those characters were "always in his head" while writing. Frost and Lynch worked as a symbiotic team. I always felt Frost functioned as a kind of ego and superego to Lynch's id. Frost told the audience how Theodore Dreiser's work was an inspiration for defining the narrative of the small town of Twin Peaks. While Frost was cognizant of the narrative structure, Lynch often contributed the more instinctual moments of the show, sometimes at a moment's notice. On one episode, Lynch called up Frost the day before a shoot and said, "There's a giant in the hotel room with Dale Cooper!" "I asked him, how are we going to find a giant?" Frost recalled. "Oh, I'm sure you'll find one," Lynch replied.
Another bizarre moment in the show occurred as a result of a discussion between Frost and Lynch regarding Josie Packard's future. Lynch said, "I don't think she's going to go back to Hong Kong. She's going into a drawer handle." Yep. And, that's exactly what happened. It is probably the weirdest moment in "Twin Peaks" history — Josie's screaming head lodged in Douglas fir.
The more surreal characters in the show are a product of Lynch's imagination, including Bob, played by the set director Frank Silva. Despite the evil nature of the character, Frost described Frank Silva as "the nicest man you'll ever meet." Frost said that Silva, who passed on in 1995, "manifested him [Bob]…. He haunted the dreams of millions of Americans." Speaking of Bob, Grace Zabriskie challenged the typical story of the creation of Bob. According to Frost, Lynch got the idea for Bob when Silva was caught on film while hiding behind Laura Palmer's bed. However, Zabriskie said this was not how it happened. According to Zabriskie, the first manifestation of Bob occurred when Zabriskie was shooting a scene in the Palmer living room. She was facing two mirrors when Silva's image was captured accidentally in one of the mirrors. According to Zabriskie, that is the moment Lynch got the idea to use Silva as the evil denim-clad Bob (and the denim jacket was not a costume, it was Silva's own).
The entire cast and crew reveled in the surreal ride of producing the show. Ron Garcia (ASC), who photographed the pilot, "was hypnotized by the whole production — I had no idea what I was doing," he joked. "For the photography of the film, David Lynch wanted to use warm colors" because he liked the warm look of Technicolor film, but the network wanted cooler colors. According to Duwayne Dunham, who edited the pilot and directed several episodes, someone was always present at the network to monitor the look of "Twin Peaks" to ensure that the color would not change. When Ron Garcia filmed the Red Room, he described how David wanted the red curtains to "glow."
Garcia explained the color red is difficult to capture on film, much less make it glow. To make matters worse, the Red Room scene was performed backwards, with the actors walking and saying their lines in reverse. If that wasn't enough, the eyepiece on the Panavision camera broke during the scene, so Garcia had to stand backwards on the dolly and look through the viewfinder at an upside down picture. He said, "I thought to myself, I can't believe I'm doing this." Incredibly, Garcia out-weirded Lynch himself at times. Garcia was in Washington State shooting establishing shots. When Lynch viewed the footage, he called Garcia and simply said, "Too weird," and hung up. Even Lynch has his limits.
When Garcia was shooting night scenes in the forest for "Fire Walk With Me," Lynch kept telling him to reduce the light because he wanted the scene darker. Garcia removed several lights, and then finally removed the white card he was using to "bounce" light into the scene. Instead, the light was now bouncing off the trees. Lynch, who still wanted less light, asked Garcia, "Where is the light coming from?" Garcia replied, "The same place your music is coming from." Lynch couldn't argue with that.
Speaking of music, the panelists also addressed Angelo Badalamenti's beautiful, haunting score. Mark Frost said that Angelo created a theme for each character and mood.  According to Duwayne Dunham, who directed episode 1.2, each director was allowed to choose one scene per episode for Badalamenti to compose new music. Otherwise, the directors were handed cassette tapes (yes, this was before CDs!) with pre-recorded music for their use throughout the episode. Dunham said the directors acted as composers by allocating the existing music in their episode.
Now … the BIG news. Will there be a season 3 of Twin Peaks? I would like to believe that Frost and Lynch are preparing for a season 3 to air in 2014, the 25th anniversary of Laura Palmer's death. During the Q&A session, an attendee asked Mark Frost point blank, "Will there be a season three of "Twin Peaks?" (alluding to the recent Internet rumors regarding an alleged meeting between Mark Frost and NBC executives). Frost paused a moment before saying, "Twin Peaks is a continuing story. That comes from David Lynch and myself." Now, my dear reader, the interpretation is left for you to decide what that statement means. That being said, I am crossing my fingers, rubbing my rabbit foot, and praying to every god imaginable that there will be a season 3.
The other huge news from the evening was Frost's confirmation that he is speaking to lawyers about releasing the deleted scenes from "Twin Peaks: Fire Walk With Me." As you may know, there were many actors from the TV show who had their scenes cut from the feature film.
When I spoke with Grace Zabriskie after the event, she commented that many of her deleted scenes never made it to the film, much less the DVD. I always loved Zabriskie's portrayal of Laura Palmer's mother. When she sees the image of Bob, her screams are truly bloodcurdling. Any other actor would have given an over-the-top and comical performance of Sarah Palmer's grief and horror, but Zabriskie's screams and anguish not only sound real – they also feel real.
Zabriskie also revealed something quite shocking – and hilarious. She said she was first considered for the role of Lucy Moran. Can you imagine? Zabriskie's intensity needs a character like Sarah Palmer. Besides, no one other than Kimmy Robertson could play Lucy. By the way, Lucy is a confirmed guest for the March 24 event at USC. And, have you seen Robertson in those TurboTax commercials? I'd like to think that Kimmy is priming for another performance as well… (season 3, season 3, season 3). I hope to see you reading books on Tibet at the front desk of the Twin Peaks Sheriff's station soon, Lucy.
Thank goodness there are six events left with some incredible guests, including some "Twin Peaks" favorites such as Mädchen Amick, Carel Strucyken ("The Giant"), Piper Laurie, Ray Wise, Catherine Coulson ("The Log Lady"), Kyle MacLachlan, Julee Cruise and Kimmy Robertson. The moderator is working on getting more participants … perhaps David Lynch himself might make an appearance in the coming weeks? I'll be attending these events and blogging, so stay tuned.
Before signing off, I'll leave you with the most poignant moment of the night for me personally. When asked how he and Lynch balanced the comedic with the serious on "Twin Peaks," Frost quoted Joseph Campbell, "You have to embrace the joyful sorrows of life or else it will crush you." This is the reason why "Twin Peaks" resonates with fans. At its core, it's about a young woman full of life and possibilities whose life is cut short. She's a victim of abuse and murdered in her prime. But, she never allows the devil in. Even in the end, she resists Bob. I wish we could all claim that. Until next time, remember, "The owls are not what they seem," my friends.
By Courtenay Stallings