USC Screens David Lynch's 'Eraserhead'
Don't talk about the baby, the umbilical cords are real, and how many vanilla puddings it takes to fill a drawer. These are just some of the tidbits I learned after a fascinating screening of David Lynch's iconic piece of surrealist film. Wednesday night, the USC School of Cinematic Arts and Outside the Box [Office] screened David Lynch's seminal work "Eraserhead" in 35mm. Lynch wrote, directed, produced, composed and edited the film when he was a student at the American Film Institute in the 1970s. The film took five years to complete.
"Eraserhead" takes place in an unknown industrial urban dreamscape. In this dystopian future, "Henry Spencer" (Jack Nance) is torn between his obligations to "Mary X" (Charlotte Stewart) as well as their mutated baby and his lust for his neighbor across the hall (Judith Anna Roberts).
According to Director of Programming and Special Projects Alessandro (Alex) Ago, the 35mm film was provided care of Criterion and Janus films.
After the screening, the following cast and crew participated in a panel and Q&A led by Ago. The panel included the following:
1)         CATHERINE E. COULSON (Assistant Camera, Assistant Director)
2)         JEANNE FIELD (Crew)
3)         LAUREL NEAR (Actor, "Lady in the Radiator")
4)         CHARLOTTE STEWART (Actor, "Mary X") Before starting the film, Alex Ago asked for a show of hands to see who in the audience had already seen the film. It turned out this was the first time seeing "Eraserhead" for the majority of the audience members. Ago paused and whispered ominously, "Good luck." After the film, Catherine Coulson said, "That was amazing to see again." Alex Ago astutely added, "It's the baby who haunted my dreams." Don't we know it.
Catherine Coulson discussed Jack Nance's stratospheric skyscraper hairdo as "Henry" in the film. She said David Lynch had an idea for a style of hair. When they took Nance to the barber, the barber hesitated and asked, "Are you sure you want it to go that high?" Lynch was sure. Since they were on such a tight budget, after a while Nance stopped going to the barber and his then-wife Coulson began styling his hair. Coulson said she performed many roles on set including styling Nance's hair, holding booms, pushing the dolly, working the camera, cooking meals, etc. She said, "A lot of us did a little of everything" and we "were handmaidens to genius."
Charlotte Stewart described her entrée into the world of David Lynch and "Eraserhead." She met David Lynch when he was at AFI and looking for actors for his student film. Stewart met Lynch through their mutual connection to Jack Fisk ("Man in the Planet"). Lynch came to Stewart's house for dinner with the script and a sack of wheat seed. That's right. Wheat seed. She said Lynch probably brought the odd gift because she lived in Topanga. (Topanga is known for its hippie, nature-loving community.)  She said she read the script but didn't understand anything, but she said yes to everything, including student films. During the years of shooting "Eraserhead," she was also acting as "Miss Beadle" on "Little House on the Prairie." I can't imagine having to switch back and forth between the hysterical "Mary X" and the demure and lovable "Miss Beadle." The first scene she shot was "the dinner scene from hell." She looked at David Lynch and thought to herself, "This guy will never make it." He did, of course.
Stewart said Lynch's style is often pushing a scene or situation "a step too far to the point of discomfort." She used the example from "Eraserhead" when "Mary X" pulls the suitcase from under the bed when she is trying to leave "Henry." Lynch told her to keep trying to pull it until he gave her the signal to stop. The situation goes on for an uncomfortably long time, but when she finally reveals the suitcase, the effect is comedic and cathartic.
Jeanne Field was working with Neil Young on the film "Journey Through the Past" when she began her work on "Eraserhead." Lynch needed crew, and she was staying at Charlotte Stewart's house in Topanga at the time. She said they often did not begin production until 5 p.m. because the sound guy had a full-time job. She worked myriad jobs including electrician, painter, and chicken operator. She said she operated the chicken AND the baby (nicknamed "Spike" on the set), but Catherine Coulson, the keeper of all secrets David Lynch, cut her off. Coulson exclaimed, "We can't talk about the baby! (Except we called him 'Spike')." Field did talk about operating the chicken, though. She said she was under the dining room table and operating the legs and liquid.
Laurel Near was a teenager when she began work on "Eraserhead." At the time, she was performing in LA with the comedy singing trio the Near Sisters, which included Fluffy, Babe and Jewel. Charlotte Stewart brought David Lynch to the club to watch her perform. At first, Near was reluctant to participate in the film because she was afraid it might be too weird, but, according to Near, Stewart assured her it wouldn't be. The best lie ever told!
Near had to wear prosthetic cheeks stuffed with cotton balls in her roll as the "Lady in the Radiator." Lynch was reassuring but honest. He told her, "This might be painful for your face." According to Catherine Coulson, Near's dress was Coulson's prom dress. When asked what her character represented, Near said, "unconditional acceptance." Coulson said Peter Ivers sang (in falsetto) and played the haunting song "In Heaven (Lady in the Radiator Song)" while Near danced and smiled with her puffy cheeks, wearing Coulson's prom dress while avoiding falling squishy fetuses.
Coulson described another strange assignment she undertook – filling one of "Henry's" drawers with vanilla pudding and lacing it with peas. She went to Sunbeam Market on Sunset and had to figure out how many vanilla pudding boxes she needed to buy in order to make a drawer full of vanilla pudding. After they filled the drawer with pudding and laced it with peas, they inserted the vaporizer. She said she shot a great scene that was cut in which the vaporizer is pulled from the mass of pudding.
Apparently the first screening of "Eraserhead" revealed mixed reactions. Coulson said, "There was dead silence." She said Lynch's mother looked at him and said, "David, how could you?!" Then everyone got up and left. David Lynch asked Charlotte Stewart, "Well, Charlotte, what did you think?" She said, "It was like a toothache." Lynch said, "Swell!"
After the initial screening several people suggested the film was too long, so Lynch "excised" some scenes. According to Coulson, there are actually a lot of scenes that are not in the film, including one in which she plays a nurse who hands the deformed baby to "Mary X" and "Henry." She also played a woman in a slip tied to a bed with battery cables attached to her. She was in the apartment next to "Henry." She was disappointed the scene was cut because "I thought I looked good!" A scene in which "Henry" pulls fetuses from the abdomen of "Mary X" was cut as well. Stewart said Lynch made a plaster cast of her naked torso for the scene. Unfortunately, according to Coulson, many of the cut scenes were destroyed.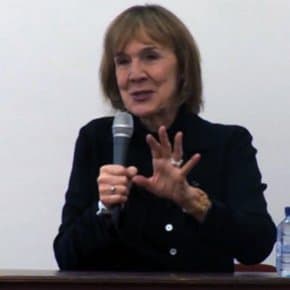 Coulson, who was filled with the most incredible stories from the film, revealed something about the props that even shocked myself. Apparently, the fetuses "Henry" pulls from "Mary X" were actual human umbilical cords. Coulson said she paid a visit to UCLA and asked for umbilical cords for the film. The staff asked her if the film was "pro- or anti- abortion?" She said it was neither – it was about science. (The best answer ever, by the way.) She said she put on a blue robe and waited outside a delivery room. Near said the fetuses she stepped on as the "Lady in the Radiator" were not real. Thank God.
Alex Ago asked about the involvement of AFI and the long time it took to complete the film (five years). Coulson said AFI was not supportive of Lynch's film at first. But Czech filmmaker Frank Daniel told AFI that Lynch would do the film or Daniel would quit. According to Coulson, Daniel eventually quit, but Lynch made the film anyway, so it worked out in the end. She said Lynch would "pay us no matter what." The film took a long time because they were continuously raising funds. David Lynch and his brother built all the sets, with the exception of the kitchen and a few exteriors. "David still has that lump of dirt with the tree sticking out the top by his bedside," Coulson revealed.  Coulson said she took her nephew – Thomas Coulson ("The Boy" who picks up the head) – to a pediatrician when he had an ear infection. She asked the pediatrician for money, and he's credited at the end of the film! She said, "AFI turned a blind eye" to how long the film was taking to complete. Apparently, Warner Brothers opened their prop shop to AFI students. After five years, when the film was completed, David Lynch returned every single item that he had borrowed to Warner Brothers.
Alex Ago asked about the chemistry between David Lynch and Jack Nance. Coulson said they were "soul mates." She said Nance and Lynch created the giant "planet"/"egg" in the movie. They kept the egg in Lynch's back yard on San Vicente. Lynch was constantly asking special effects people how to make the egg smoother. They would say, "You've got to trowel it." Lynch and Nance used to say the phrase over and over again in a variety of contexts – "You've got to trowel it!" Charlotte Stewart said they first bonded over Lynch's luggage rack. When Nance met Lynch, he looked at Lynch's luggage rack and asked, "Did you make that?" Coulson joked, "He was very impressed with his rack." Coulson said Nance had a great sense of humor. He would perform Jerry Lewis-esque telethons between takes, asking for funds for "Spike" the baby's bandages. He used to have entire conversations with the coat rack (nicknamed "Uncle Edgar") in the corner of "Henry's" room. Laurel Near said Jack Nance was "the most interesting person I've ever met." Charlotte Stewart recommended that the audience see the film about Jack Nance titled "I Don't Know Jack" (2002).
"Eraserhead" became a cult hit when a man from Libra Films in New York City came to a film festival in LA and saw the film. According to Coulson, he decided to put it on the midnight film circuit in New York and Los Angeles alongside other films such as "Pink Flaming" and "The Rocky Horror Picture Show." He wanted to release it "slowly" and "let word of mouth build." It did. "Back then, audiences had never seen grotesque things like the alien baby before on the screen," said Stewart.
Mel Brooks saw "Eraserhead," loved it and offered Lynch the chance to direct "The Elephant Man" – Brooks had just gotten the rights to the film. Lynch wanted to create the Elephant Man's makeup, but they wouldn't allow him to do it.
When asked whether or not David Lynch is thinking about making another film, Catherine Coulson said, "Right now, he is into lithography." She said he believes there is nothing better than the smell of print. Charlotte Stewart told the audience about Lynch's art show, which opens this Saturday at the Kayne Griffin Corcoran in Los Angeles.
Seeing "Eraserhead" on the big screen in 35mm was impressive. Even though it was made in the 1970s, the imagery and special effects have the sophistication of a twenty-first century surrealist work. The film seems so deeply personal. Henry's suit, wild hairdo and mannerisms remind of David Lynch, but a less charismatic persona – one who is struck by the stultification of nature as he is being maneuvered by the machinery of the industrial complex of modernity. It is a man rendered unable to act in the reality of his situation even though he is able to act within the dreamscapes of his nightmare. There is a strange satisfaction when "Henry" pierces the alien "Spike" – the source of all of his frustrated obligations. The "Lady in the Radiator" reassures him that squashing his frustrations are not only OK, but also one can take delight in them.
Scholar Angela McRobbie wrote that Lynch "postmodernizes psychoanalysis by drawing dream-type materials and fantasies from underneath, right onto the surface and interspersing these segments with the twists and turns of the fragments of narrative. Instead, then, of there being consciousness and the unconscious, reality and dreams, Lynch does away with the divide, and lets them flow freely into and across each other." ("The Uses of Cultural Studies," 173) She was speaking of "Mulholland Drive," but the same can be said of "Eraserhead." "Henry's" world is so strange and foreign that his fantasy world cannot be distinguished nor extirpated from his reality.
Thank you to Alex Ago, USC and the panel members for a fine screening and discussion. USC's Outside the Box [Office] is presenting "On the Air" (1992), the short-lived television series created by David Lynch and Mark Frost, on Dec. 8. Until next time, my friends, remember, "in heaven, everything is fine."
Buy or Rent A Voyage To Twin Peaks at Amazon. It is the documentary Scott directed about the 25th Twin Peaks Festival. See the actors, the set locations and interviews with the fans.
Check out this review of David Lynch's Guest Starring role on Louie.
Here is our Podcast interview with Alex and Courtenay about the Twin Peaks Screenings at USC