Scott's Top 10 of 2013
What would the end of the year be without an end of the year recap.  We love our countdowns and we love our lists. For this list, I decided it all the shows had to have been released in 2013 to make the list.  So here it goes my top 10 television moments from 2013. 1. The final episodes of Breaking Bad.  There was nothing more exciting or more rewarding then the end of Breaking Bad.  We covered it on our site more than anything we have ever covered and rightfully so.  I was never a true BB fan until this final season.  I hope that when award season comes around that people remember the scene in the garage with Hank and Walter.  As well as the scene in the restaurant with Hank and Skyler.  In the final season it was Hank (Dean Norris) who stole the show. Our Podcast.
2. Carson on TCM.  The release of full (or at least almost full) interviews from Johnny Carson has been one of my wishes for years.  I will never understand why this show is not in syndication.  But this year, TCM (yeah, I had never heard of the channel either and who knows what it stands for) finally started to play 8-12 minute stretches of Johnny's interviews.  The interview with Shelly Winters was amazing.  The site of Siskel and Ebert bashing Three Amigos with Chevy Chase sitting right next to him is something that would NEVER be on TV today.  Conan, who has quietly become the heir of the Carson throne, was a perfect host.  I loved everything about this show. Read more. 3. House of Cards: The Hospital Bed Scene.  We discussed this scene in great detail on our podcast about Season 1.  I watched this show last February and I still think about this scene.  Robin Wright created the most interesting female character on television in 2013.  Claire Danes should send Robin the Emmy she won this year.  To hear more about this, listen to our podcast.
4. John Oliver Hosts The Daily Show.  When I first heard that Jon Stewart was taking the summer off to direct a movie, I figured I would not watch the show all summer.  Instead, I started watching it before I watched Dave.  John Oliver brought a less angry observer to the show.  His amazement at what was going on with Anthony Wiener and Congress was a better cure than the Anger that Jon Stewart brings.  The Daily Show is still the best show on TV no matter who the host, but Oliver made it just a bit better.
5. Every line of dialogue from Maggie Smith on Downton Abbey.  Whether you watched season 3 (if you were in America) or season 4 (if you were in England) you loved every word, movement and glare that Maggie Smith gave you as the Dowager.   A perfect example of great acting was when she stumbles ever so slightly after the death of Sybil.  To me, this was way more moving than anyone's big tears. Podcast on Downton Abbey.
6. Audra McDonald Live at Lincoln Center.  PBS is my favorite network.  Their documentaries, shows and specials are the best year and year out.  This year Audra McDonald performed an hour concert that was pure joy.  Her song selection was amazing from pop tunes, to classics, to comedy, to Broadway.    The way she acts every moment of every song could pull in the most jaded of TV viewers.  Most people will discuss her performance in Sound of Music Live, but to me, it is getting to spend an hour with just her.   At the minimum you should try to You Tube her song "Baltimore" as a perfect example of a way to sell a comedy song.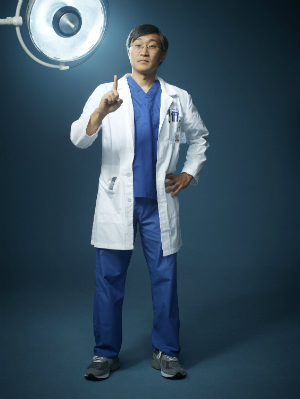 7. Dr Sung Park on Monday Mornings.  When a show comes and goes, we usually forget about it by the end of the year.  But I will not soon forget Dr Park and his broken accent on TNT's Monday Mornings.  I am not sure why it was cancelled because it really was an interesting show with a new concept.  But that is the way of TV now.  I know this show will never be released on dvd because David E Kelley hates releasing his shows, but I enjoyed this it. Read more.
8. GOB breaks in and thinks Jesus is a real man.  I wasn't thrilled with the return of Arrested Development.  Yes, it was a mind blowing example of complex writing but it wasn't that funny.  No matter how many times you try to tell me that it was Godfather 2; I will reply with funny is funny. I should laugh if it was funny.  I will say hands down the hardest I laughed all year was in the GOB episode that tackled religion head on.  The scene where he broke in and screamed at a picture of Jesus and then said, "oh for a second I thought that was a real man."  I laughed so hard I had to pause.  I am still laughing at it 6 months later.
9. The Ohio State - Michigan Game.  Wait, what?  Sports on the Red Room?  That has never happened before!  This game was why live television is great.  It showed everything that is wrong with college sports and why everyone loves it so.  It was a great game that came down to a risky (and right) call from the Michigan coach. OSU wins in the last moments and another chapter is written.  It was the fight in the middle of the game that they played over and over that makes me pick the moment.  This is where sports really comes into play.  I think of the player giving the finger to the crowd and then suffering no real consequences for the action.  My kids are not football players, they are just straight A students.  Therefore, they will pay colleges $100,000 for their education.   ESPN will make a million off this game showing a group of players acting like animals all while getting a free education.  Should we sing the national anthem now?
10. Netflix.  You can't deny it now.  Netflix changed television in 2013.  I doubted the idea of dropping an entire season at once for House of Card, Arrested Development, Orange is the new Black .  Now I can't imagine TV in any other way.  It was the defining moment of TV and we were here to cover it.  Another great year in TV.  We sure hope you keep watching and keep listening to us blab at the Red Room Podcast.
Buy or Rent A Voyage To Twin Peaks at Amazon. It is the documentary Scott directed about the 25th Twin Peaks Festival. See the actors, the set locations and interviews with the fans.
Subscribe to our podcast on iTunes to download and catch up on episodes.
Follow us On Facebook and Twitter