Scandal Season 3 Finale Review (Spoilers)
I am finally caught up on Scandal.  (Major Spoilers Ahead) I watched season 1 and 2 on Netflix and season 3 on ABC.  Last night, they aired, The Price of Free and Fair Election.  This show is the most daring show on television and somehow, it is airing on boring old network television.  Honesty, I cannot remember watching a show that killed a main character's kid.   They just took that kid out like he was nothing.   And really, that is the least crazy thing they did this year.  Watching this episode, I was thinking how there is no way that this show will be nominated for any Emmy's because they really only nominate cable shows or network shows that totally play it safe.  Scandal has changed my feelings on House of Cards.  House of Cards season 2 was fake and boring all year.  Scandal is fake and really exciting.  What show on television do you believe?  None, so why not make it fake and exciting.  This show moves at a pace that is ridiculous. I don't even remember all the plots that were covered this season.  Was Huck in the hole? Or was it Jake? Or was that last season, who can keep up?  Just watch another one.
Kerry Washington has created a character like none other on TV with Olivia Pope.  My favorite part of her is that she loves the President but regularly has sex with Jake.  She is good and upstanding besides the time she fixed a political election.  For all the talk of how daring Walter White was on Breaking Bad, he was dying of cancer.  Olivia breaks the law just to please her man.  And Cyrus Beene is an evil awful homosexual republican.  How often do you say that sentence about a network character?  I think of how timidly CBS's The Good Wife handles Kalinda.  They are afraid to make her an out and out lesbian.  Not only is Cyrus married to his homosexual partner, he had a baby with him and then had him killed.  We haven't even gotten to my favorite villain on the show, Mellie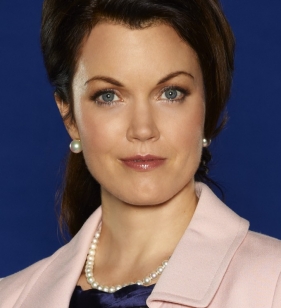 Grant, the President's wife.  She makes Alexis Carrington seem tame.  While I agree with many of the articles that were written this year saying that writers played fast and loose by raping different strong females for weak plot points.  Mellie's rape by her father in law changed how we view her.  This show doesn't just do crazy plots for no reason.  It is intoxicating.
So we have an entire summer to see what will happen now.  I have complete faith in Shonda Rhimes.  I never watched any of her other shows but this one has me.  I care about Huck.  I want him to have his family.  We can't possibly be interested in him "loving" Quinn who despite a season of change is still the most under developed character.  I can't wait to see if David, the wonderful Joshua Malina, will bring down the over acting king of the world: Joe Morton as Olivia's father.  He has now started playing scenes hunched over because his acting ego has become to heavy for his shoulders.   There is so much to make fun of with this show but I do not partake in Hate Watching.  I sometimes laugh at it but like you laugh at a relative that embarrasses them self at dinner.  That is your drunk uncle and you wouldn't want him any other way.
So I will take the summer to exhale after this amazingly fast past season that kept upping the bar with each episode.  I will wait for them to use the world Gladiator or their favorite phrase, "the most powerful man in the free world."  I will miss Olivia and a show that makes me want to see the next episode not out of duty but out of love.  Catch up and jump in. Scandal is fun in a way that TV has long forgotten.  It is not trying to scare you into the next Zombie apocalypse and it is not trying to re-define what TV is about.  It is entertaining.  I think all the networks have forgotten that is what they are supposed to do.
Buy or Rent A Voyage To Twin Peaks at Amazon. It is the documentary Scott directed about the 25th Twin Peaks Festival. See the actors, the set locations and interviews with the fans.
Follow us on Facebook or twitter @redroompodcast
Subscribe to our Weekly Podcast on Television at iTunes
Check out the first two seasons of Scott Luck Stories here.