Top 10 Shows of 2013-14 Season
Something truly strange happened this Television season, I watched TV.   Usually everything I watch was made a couple of years ago.  This year I actually watched 10 shows that were produced this year with a copyright of 2013-2014.  I am watching Parks and Recs but I am still in season 4 so that couldn't make the list.  I decided to rank the shows that I watched this season in order of how great they were.
1. Breaking Bad - This was the best show of the year.  The final 8 episodes of Breaking Bad will be how I judge the ending of every show.  I would still pick the finale of Star Trek:TNG as the best finale of all time, but Breaking Bad had the best final run of episodes of any series ever.  Breaking Bad was easily the best show of this season.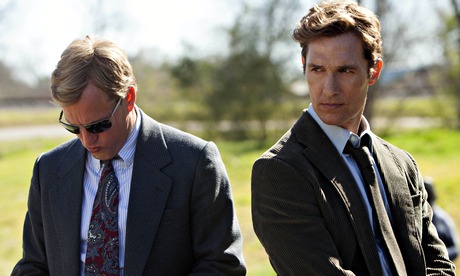 2. True Detective - This show was hands down the best new show of the year.  If it wasn't for the amazement of Breaking Bad it would have been #1.  The mystery might have been a little vague but who cares?  The dialogue and characters were amazing.  How you can really tell this show was great is that people have made some really funny spoofs of this show, that is the true test of greatness.
3. Scandal - If you are rolling your eyes at this show you should stop.  Scandal is the kind of show that I would love to study.  There is no reason that I should be watching it, but I can't stop.  In fact, I seriously look forward to it each week.  I love the pacing, the plot twists and the over the top acting.  It moves so fast that you can't play angry birds or surf facebook while it is on.  Put your phone down and enjoy the ride.  Quality wise, I stand behind my #1 and #2 pick, but Scandal is the show I enjoyed watching the most.
4. Downton Abbey - In many ways season 4 was my favorite.  This show has settled in to that sweet spot where you just are happy to see the characters.  I do believe that the show should end next year and before they fall into what I am now calling The Money Seasons (see Mad Men.)  Yes, the Anna story was awful, but for the most part this show delivers as it should.  I didn't miss Matthew at all.
5. Orphan Black - This show rises to the list on the strength of the acting of Tatiana Maslany.  The way she plays each clone is so different.  If she does not win every actress award this season they should pack up the award shows and cancel them.  This show does not have the heart of Buffy but it does have the action and characters.  The only thing missing is a great bad guy but the show is still young.
6. Sherlock - The season 3 finale was one of the strongest episodes of the series.  They have handled one of their characters getting married in a very interesting way.  This show is pure fun.  I also think their use of texting on the screen is really innovative.  This series displays how visually boring all American television is.  This is the only show that truly visualizes what it is like to live in the modern internet world.
7. The Americans - This show is not great, but it really is good.  There is something to be said for a show that actually lives up to its concept.  This show puts two "evil" characters up front and as the leads and never winks it's eye at you.  You can watch an episode and totally forget that you are supposed to be rooting against them.  The way you feel for their children is amazing.  This is just a fun, non deep show.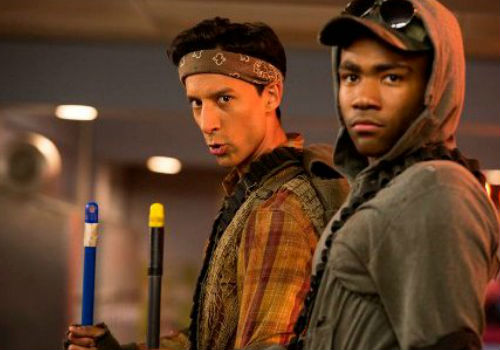 8. Community - I would never imagine that my feelings for this show would return.  Last season was so awful, I didn't even watch most of the season.  This year with the return of Dan Harmon it bounced back.  Yes, the magic is gone but it still was really funny.  The dean made me laugh at his entrances, their attack on Game of Thrones fans was spot on, and the way they handled losing 2 of their major characters was perfect.
9. Mad Men - If you don't admit that this show is no longer quality television you are not noticing the King's new clothing is nothing more than his bare ass. I will speak of Mad Men in our final Podcast of this season but it came back for the money and it shows.  This is only a "Money Season" for Matthew Weiner.  He ran out of ideas in Season 5.  It makes the list by default and only because of the Pete Campbell story.
10. House of Cards  House of Cards was just boring.  When watching a show becomes a chore that is a big problem.  I do believe that this shows can come back to its former greatness in their 3rd season and I hope they do.  But they lost the magic of the central relationship between Clair and Frank.  Also, the Rape story was so fake it makes me wanna scream.
So those were the 10 new shows I watched this last season.  Wish I could have added Louie, Parks and Good Wife but I am not in the current seasons yet.
Buy or Rent A Voyage To Twin Peaks at Amazon. It is the documentary Scott directed about the 25th Twin Peaks Festival. See the actors, the set locations and interviews with the fans.
Follow us on Facebook or twitter @redroompodcast
Subscribe to our Weekly Podcast on Television at iTunes
Check out the first two seasons of Scott Luck Stories here.