Emmy's Biggest Mistakes
As we prepare for the 2014 Emmy awards, I thought it was a great time to look at some of Emmy's biggest blunders.  The reason right now is a great time to look at them is because this year they made what I consider to be the biggest blunder of all.
TOP EMMY MISTAKES
1. Not nominating Tatiana Maslany from Orphan Black.
Not only is Tatiana turning in the best performance of the year, I would say she is turning in the best female performance of all time.  I hate to ever use any kind of sexism, but if a man was playing 6 different roles, he would be nominated and wining every year.  I seriously do not understand how she didn't even get nominated?  Her performance of Helena alone should be worth two Emmy's.  This season she took each character to a new height.  Each clone is a three dimensional character.  This has been done with superb acting.  Shame on who ever wins best actress. (unless it is Kerry Washington because I love Scandal)
2. David Lynch doesn't win for Directing.
I can almost understand Twin Peaks getting snubbed the first year because the show was so new and Emmy is so old.  I am sure dancing midgets and silent curtain rods were above the voters in 1990, but Lynch's directing of the pilot episode of Twin Peaks is a masterpiece.  Whenever a movie director does a pilot today, (Martin Scorsese for Boardwalk Empire, Barry Sonnenfeld for Pushing Daisies) they give out an Emmy in a moment.  Lynch earned his with the shot of Ray Wise finding out his daughter is dead.  The camera uses every spot on the screen as we see the Sheriff pull up in the background and we dread watching a parent get the worst news they can receive.  Ray Wise should have won an Emmy in season 2 no doubt, but it is Lynch's directing Emmy that still gives me Garmonbozia.
3. Martin Sheen doesn't win for arguing with God....in Latin
For seven season Martin Sheen led our fictional country.  For seven seasons he lost the Emmy.  Mostly to Tony Soprano who really didn't need three wins.  In my perfect world, if you won an Emmy this year, the following year you would not be eligible for winning for the same show.  I think after losing the award, Aaron Sorkin decided to take matters into his own hands.  He wrote Martin a monologue where the president, alone in a church, argued with God.  To top it all off he did it in Latin with no subtitles.  We didn't need to understand the words, Martin was telling us with his acting.
4. Patrick Stewart doesnt win for Star Trek.
I understand that it is easy to discount science fiction from an awards point of view.  I will never understand how Patrick Stewart didn't win for playing Captain Piccard.  He may just be the best actor to ever work on television from a training and back ground stand point.  Year in and year out he played a captain with a level of respect that had not been displayed on television before.  In season 6,  Chain of Command part 2, he took everything to a new level.  Not only did he not win for this episode, he wasn't even nominated.  He should have won just for his last line of, "There are four lights."  Watching the way he played this scene is a lesson in acting.  Ask yourself would most men have screamed this with anguish instead of anger?
5. Jason Alexandar doesn't win for Seinfeld.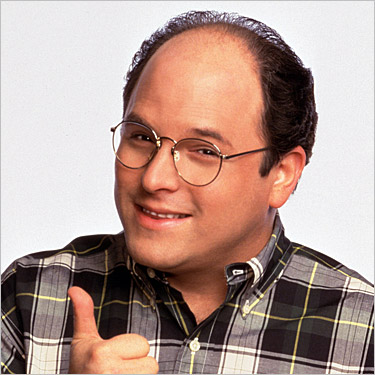 A trivia question for you to use at the bar.  Which NBC Sitcom did all the cast members win an Emmy for?  Most will guess Seinfeld, but the answer is Will & Grace.  Nothing against that show but the answer should be Seinfeld.  The first three years of Seinfeld, Jason was the best actor on the show.  His performance in "The Note" when George is given a massage by a man has subtleties that none of the rest of the cast could ever have pulled off.  I will freely admit that his acting just became a series of yells in the later years but Jason deserved to reach the podium at least in those early years.
6. Joss Whedon doesn't win for writing original music.
You could totally do a list of why Joss should have won a million Emmy's.  Producing, directing, writing and more.  (Not to mention Sarah Michelle Gellar) But the one that baffled me is in the original song category.  When he wrote a complete musical episode of Buffy with all original music, it seemed like a great way to give him his Emmy due.  The songs were not cheap and simple like other shows sometimes do with Musical episodes.  The songs were comical, emotional and multi-layered....just like Buffy.
I could go on, but I will stop at 6.  What are your Emmy Snubs?
Buy or Rent A Voyage To Twin Peaks at Amazon. It is the documentary Scott directed about the 25th Twin Peaks Festival. See the actors, the set locations and interviews with the fans.
Subscribe To The Red Room On iTunes
Follow The Red Room on Facebook or twitter @redroompodcast or Instagram
Like Scott's newest podcast: The Thirtysomething Podcast on Facebook, Twitter, iTunes
Check out the Scott's comedy eBook: Scott Luck Stories. If you are a Kindle user, click here. If you read through iTunes on iBooks, Click here. If you have a Nook from Barnes and Nobles, click here.