Moonlighting Monday: Episode Countdown
As March comes to a close, so does our tribute to the best show from the 80's: Moonlighting.  I asked all the Moonies out in internet land to send me their top 10 list of episodes.  They responded faster than Herbert Viola heading for a fresh cup of coffee.  I complied the list and count them down below.  I discuss the top 10 episodes and list the remaining 5 episodes just for your information.  Over 30 different episodes were voted for.  That means that everyone loves almost half of the episodes. The votes were really spread around all but the top 2 episodes.  They not only had the highest vote total, but also made the most lists being voted on by over half of the entries.  I agree with most of the list, even if it isn't quite what I would have picked for me.  That is what made the list so much fun for me, to see what you guys think.  Here is your top list of Moonlighting episodes.
1. Maddie's Turn To Cry
The episode that fans like the best is the one where Maddie finally admits her feelings.  The triangle of Dave, Maddie and Sam is one for the ages.  Here is a lesson to TV producers of today, don't let a triangle last for a season, this happens in 4 episodes and moves are characters in a major way.  This episode has it all: Emotion, a kiss and a great chase scene.  No use crying over split milk...
2. The Dream Sequence Always Rings Twice
The second best episode, according to the Red Room Followers, has two sides.  Maddie's version and Dave's version.  If that doesn't sum up the show, nothing can.  This black and white episode was an amazing idea back in the 80's.  It has more jokes in it than an episode of The Simpsons, but it is remembered as being the first time we see the character's kiss, even if it is just a dream.
3. Witness for the Execution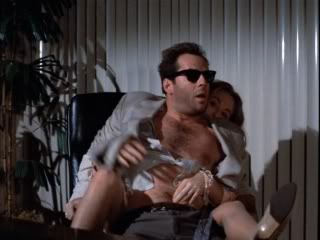 This is the first time they REALLY kiss.  A good bye kiss for the ages.  Here we take a great case and the sparks fly as Dave is framed for murder.  I am not surprised by this entry.  I remember being so excited the first time I watched this back when it aired.  Great pick.
4. The Son Also Rises
The writers always knew how to end and open a season on Moonlighting.  It is fun to see the characters come back from "summer vacation."  But the fun doesn't last long when Dave's father comes to town with a new love interest.  This episode gave Bruce Willis a chance to show off his acting chops.  If you forget the twist at the end of the episode, I won't spoil it here.  But its the kind of choice the writers made that is the exact reason we still love this episode.
5. I am Curious…Maddie
You may remember Be My Baby as the song from Dirty Dancing.  But Moonlighting fans remember it from this episode.  They finally consummate their relationship.  There are no rose's here.  There are no happy words of love.  That is for other couples.  Dave and Maddie finally do it in the only way they could...with lots of broken objects and a classic 60's pop song playing.
6. Atomic Shakespeare
Creativity on this show was a norm; the Shakespeare episode takes it to a new height.  At the time it was a the most expensive hour of TV ever produced.  It was worth it.  Whenever they could put the characters we love in an outside situation the show soared.  I have seen this episode a million times and I still pick up on subtle jokes that are in here.
7. A Womb With A View
My favorite episode came in kinda low, but that is OK.  It at least made the list.  The music, the acting, the story.  This is not a normal episode, but the sentiment in it is beautiful...and sad.  Isn't that the show?  You may disagree with the way the episode ends but it was truly best for the show.
8. Atlas Belched
Would anyone understand what a rolodex is anymore?  I suppose they should play this episode with a disclaimer that losing your boss's rolodex is like losing his iPhone.  This episode has a great Dave and Maddie fight and the best line ever:  To the dump.  To the Dump, To the Dump, Dump, Dump.
9. My Fair David
I have to say, I am surprised this episode doesn't rank a bit higher.  The Limbo scene is one of the show's most memorable scenes.  The idea that Maddie would want Dave to change and then be sad when he does is a great story.  Part of what makes them work as a couple is the fact that they want each other to change but wouldn't love each other if they did.  Bonus points for the line: "You De-Daved Him."  We love you, Ms. Dipesto.
10. Symphony In Knocked Flat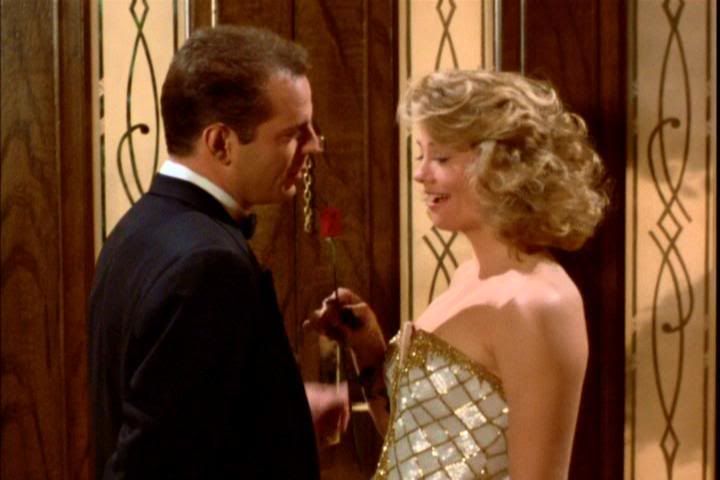 Dave and Maddie go on a date.  Why would they think this would go well?  There is nothing more fun and heart breaking than watching Dave try to give Maddie what she wants.  What I remember the most about this episode is that it annoyed my father when this episode ends with a super silly scene.  It was exactly what I loved about the show.  There was enough serious detective shows on, let's have a little fun and who cares how the case turns out?
That is the top 10.  I like the list (would have liked to see Big Man make the list but it is on the remaining 5)  Here is the rest of the top 15, all great episodes:
11. The Pilot
12. Maddie Hayes Got Married
13. Big Man On Mulberry St
14. To Heiress Human
15. Blond On Blonde
Thanks for another Moonlighting Monday.  Listen to my interview with the creator of Moonlighting, Glenn Gordon Caron.
Subscribe To The Red Room On iTunes
Buy or Rent A Voyage To Twin Peaks at Amazon.
Follow The Red Room on Facebook or twitter @redroompodcast or Instagram
Like Scott's newest podcast: The Thirtysomething Podcast on Facebook, Twitter, iTunes
Check out the Scott's comedy eBook: Scott Luck Stories. If you are a Kindle user, click here. If you read through iTunes on iBooks, Click here. If you have a Nook from Barnes and Nobles, click here.